Holy Cow Batman!! I checked my Google analytics data before going to bed tonight and I just have to blog about this now, tonight!
Yesterday, I mentioned about optimizing "Googel" keyword since there are less competition and the volume of those who search for it is incredible!
What's more incredible is that, this morning (until mid day), I found my entry on the first page of Google! (with my account log off!)… Though it's on the second page now, but I tell you, the visitors it brought to the blog post was amazing! Check it out!:

UPDATE (March 20) : Here's the latest Google analytics for the Googel post
Would you believe that? I wouldn't! My almost 3-month old blog had a number of visitors this 2 year old blog could not dream of! :) Thanks to SEO!
What's the top blog post they visited? Yep, you guessed it! Googel page!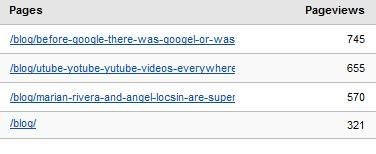 See? nice eh? It even out ranked my Yutube post and other… (sure sure, I'm also optimizing "marian rivera" and "angel locsin", come on.. I love hot chics… hehehe)