Last week, I called Union Bank about my application for an EON visa card. I got their "Welcome Letter" several weeks ago but I still don't have the card. I was thinking that the card too will be delivered at home (how I wish.. :D )
Good thing I called them. I found out that my visa card is there are ready for pickup! The sweet-voiced lady told me to bring along two (2) government issued ID and P350 for the annual membership fee (which btw, I did not get a receipt!)
Apparently, before you can actually use Union Bank's Visa card on Paypal you have to first activate it! I tried adding a card on Paypal and it said that the card was rejected and I have to contact the issuer of the card.
EON Online Account Activation
First you need to go to the EON card login page.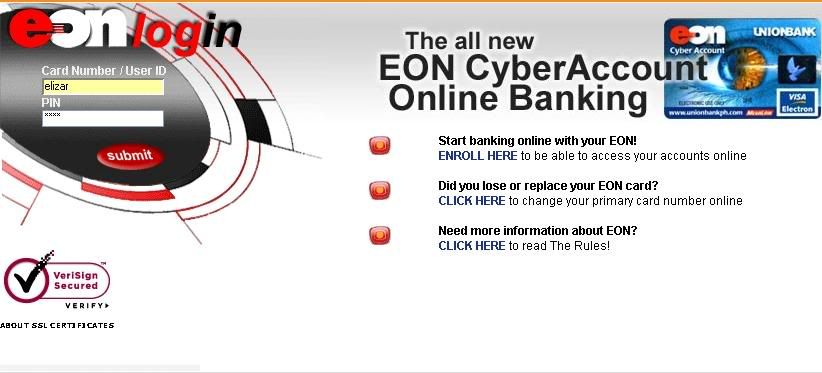 Click "Enroll Here", follow direction and you're good to go!
Here are the details…
In registering an EON online account, you'll need to supply the following information…
Both of which can be found on the envelope that comes with your EON Card.
A new page appears wherein you will be asked to choose your top 3 User IDs.. Once you confirmed and your chosen ID is available you will proceed with step 2.
You'll then be redirected to another page wherein you'll need to put in some of your personal information. Those marked with an asterisk (*) are of course required… others are optional.
Once you're finished, you'll see a confirmation page:
There you go! After two days I'll try and add the visa card again to my Paypal Account!
Hope all goes well so I can withdraw my $50 paypal money! Yahoo!!!
Have you done this steps already? How did it went? Am I doing it all wrong?
Thanks!