Posted by
Elizar
on Dec 31st, 2007 in
Hobbies
,
TV
|
2 comments
Perfect Strangers is one of my most favorite TV show of all time! I love it so much that I advise you to never, ever allow your children to see it! What ever happens, for the love of God, don't let them watch this show…
Why? Your child might end just like me. I had trouble getting rid of Balki-sh character in me.
Good news for me and other fans who grew up with Perfect Strangers, now it's about to be released in DVD! (Of course, I'm going to buy myself a copy!)
For those who are not familiar with the show, it is all about two distant cousins who's upbringing, lifestyles and everything else are totally different!
Cast and Characters
The main characters are of course the cousins. Larry Appleton (Mark Linn-Baker) is the city boy and his cousin Balki Bartokomous (Bronson Pinchot) is the idealistic, naïve shepherd from the fictitious island-nation of Mypos.
Balki has never been to America. Everything America is all alien to him. Balki often misunderstands the culture, which leads to some delightfully hilarious situations.
The show also stars Melanie Wilson (Family Matters) as Jennifer Lyons, Rebecca Arthur (Grace Under Fire) as Mary Anne Spencer, Ernie Sabella (Saved by the Bell, The Lion King) as Donald Twinkacetti, and Belita Moreno.
Season 1 and Season 2 of Perfect Strangers on DVD!
The show lasted 8 seasons with 150 episodes! Warner Bros. will be releasing the first 2 season of the emmy nominated TV show.
Retailing at $29.98 SRP, the set is comprised of four discs, which feature 28 fantastic episodes as well as hilarious bonus material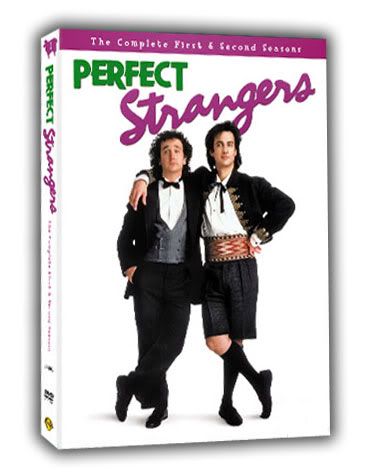 Thanks to Perfect Stranger TV for putting up a great fan site and for all the informations!
I want this DVD and going to watch it on a plasma mount TV.. (now I need first the TV eh? )