Posted by
Elizar
on Feb 10th, 2007 in
Business
,
To Be Sorted
|
5 comments
Alright, let's see if can remember what happened today… Felt like today is longer that yesterday or the day before.. :) .. Started the day checking my business partner (my brother) if he's home.. Well, he's not.. I was going to check out the poster he got from E-Games office in RCBC Tower…
This morning, while I was printing some stuff to be posted in the wall, and the glass door, a number of kids wanted to play.. Told them go back here tomorrow.. Be the first 10 customer and you'll get 1 hour free! (geezz, what an offer! :)
Before lunch I think there was a couple more kids wanted to play.. And finally, after lunch, around 2pm, I finally gave in and let them play.. Told myself, just to test what these high-end computer stuff can do.. ;)
My brother arrived late that afternoon with the Ran Online poster… I was waiting for that, since I could decide where to put my other printed posters (the services offered and stuff).. Here's what the shop looks like now… nice eh?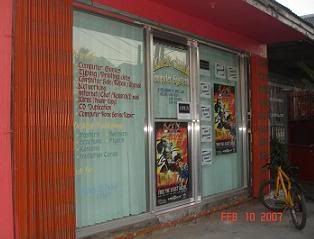 Another shot at different angle…
And here, you can see the first customers of InnerChild Computer System.. Click it to see a larger picture.. If you'll notice, all of them are kids.. See the most good-looking kid in there? I gave a hint, hope you can find it.. hehehe..
Here's one for my dear friend
Mel
, my only
Damsel in Distress
, my Kikay Killer… :)
I changed my template one day, and she noticed my banner no longer show my dear Matthew.. So, I thought I post his latest picture here..:)Here's one where we fool around with the laundry basket.. (sorry you could click on that to enlarge.. we look terrible!!) hahaha
Alright, here's another one taken just this morning.. Lois, my pretty, cutie, petite, gorgeous wife.. (ayus ba neyko?hehe).. placed Matt in Clark's old first bicycle.. (or is it a tricyle).. He looked so cute so I decided to take some shots.. :)
That's it for tonight.. Tomorrow's the big official first day of business.. hope it do good!…
(sensya na po di masyado maka blog-hop… post lang muna.. kasi medyo maraming inaasikaso..
Also a weird thing happened (101907) a guy tried to urged me to get a
checking accounts
. Could you believe that? I'm here in the Philippines! :)Enjoy the rest of the weekend! God bless all of us!